School Meals
Grove Academy are thrilled to announce our new range of nutritious and carefully selected school meals which will be served at the new Chalvey site from January 2021. Students will be able to enjoy a choice of hot and cold lunches in a brand new state of the art servery and kitchen area during lunchtime. We have a top chef coming to Grove with his highly trained team who will be looking after the children and ensuring they are eating healthy meals at school each day. Here is a brief introduction to 'Chef Ray' below!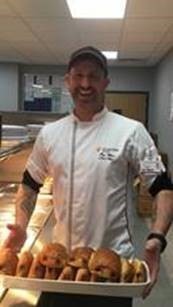 Meet Chef Ray
What are your hobbies?
Obviously cooking! I also love fishing but I am not a big fan of eating it.
Where are you from?
I am from France but I came to England to follow my love Helene in 2001
How long have you been a chef?
I have been working in school canteens for 15 years. I started here in the UK working in a restaurant called 'Auberge' in Uxbridge Plaza.
Why did you start working in schools?
I changed from restaurants to schools because I wanted to cook better healthy food for children!
In terms of choosing meals and making payments, there will be new arrangements which will differ for Primary and Secondary students from 22nd February 2021 for children attending provision onsite and more information will be provided for the return. A new system using an app 'Vericool - SwiftOrder' will be introduced. Further details can found in the video link here https://1drv.ms/v/s!Au22G2prcYQZgo92iapoCmTqDlqxmw?e=SjKWDi). Pre-payment for meals will continue on ParentPay. If you require a reminder of your login details or support with activating your account, please email the school office. Please also contact the school office if your child has any allergies or dietary requirements that the school has not yet been made aware of.
Grove Academy continues to provide Universal Free School Meals for children in Reception, Year 1 and Year 2 and also provides free lunches for children who are on our Free School Meals register. Parents are also able to send in their child with a healthy packed lunch.
If your child is in Years 3 - 6 and you would like your child to have a school meal each day, ParentPay is now active for you to prepay for your child's school meals. The cost of which will be £2.50 per day. Do note that children in Reception, Year 1 & Year 2 and children who are eligible for Free School Meals will be entitled to a free school lunch. Alternatively, you may send your child to school with a packed lunch from home. Please note we do not allow sweets or fizzy drinks and are a no nuts school. Please also note once a home lunch or school meal is selected, this must continue for the rest of the half term.
Secondary students in Years 7 – 10, will be able to use a pre-paid card we will distribute. Payment will need to made via ParentPay where we recommend you to top up with a £25.00 credit each week. The average cost of a lunch based on an increased portion size would be £2.80 for a main meal and dessert.
Please find below our new menu and more information on allergens.
Thank you for all your support in this exciting new venture.
Free School Meal Applications
We understand this is a difficult period for many of our parents and some going through the furlough process with their employers. If you think you may be eligible and wish to apply for Free School Meals, please contact the school office on 01753 517359 or email office@groveacademy.co.uk.
Alternatively you may apply directly with Slough Borough Council via the below link. We will then notify you of the application outcome.
https://www.slough.gov.uk/xfp/form/244